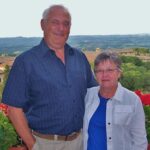 were born in Regina, Saskatchewan. Daryl was raised in the city of Regina, and Donna-Lynne grew up on her family's farm just outside Edenwold, Saskatchewan. They met in their 20's when Donna-Lynne was a teacher, and Daryl had recently become a member of the RCMP. They were married on Donna-Lynne's family farm, then moved to British Columbia where Daryl was posted with the RCMP. They raised their family of three children (Jarrett, Tyler, and Jenna) in the communities of Kelowna, Keremeos, Dawson Creek, New Hazelton, and Sicamous – eventually choosing Sicamous as the community where they retired.
Daryl and Donna-Lynne shared love, humour, strength, and kindness with their family and friends. They are remembered as animated story tellers and great listeners. They kept us laughing and smiling around dinner tables, fires, and soaks in the hot-tub. They enjoyed traveling throughout Canada with their family as well as Europe, Hawaii, Mexico, and the Oregon Coast with each other.
Daryl and Donna-Lynne were extremely grateful and very thankful for the care they received through the staff and services at Shuswap Lake General Hospital when they needed it. They always said how fortunate they felt, despite their battles with cancer, that they lived in a place where these services were available to them. Daryl passed away on January 22, 2014 and Donna-Lynne passed away on June 01, 2016. Both had instructed that a donation be made to the Shuswap Hospital Foundation in their honour, and also requested that their family and friends do the same. They took comfort knowing these donations will improve the life of someone else.
Daryl and Donna-Lynne, we love you and miss you beyond what words can express. The gentle presence of your beautiful souls will remain forever in our hearts and minds, and give us comfort as we move forward. We will always think of you, and find strength. As you taught us, life is beautiful, live it to the fullest with those you love.