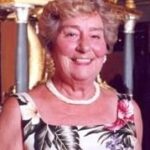 Lois Fay McClellan (nee Farquharson) was borne on October 6, 1930. Lois, my mom and friend, left her current life on September 25, 2016 after a short battle with lung cancer.
Lois was the youngest daughter of Edna May and (William) Nelson Farquharson, of North Vancouver, BC and was married to Peter Graham McClellan (deceased 1996). She raised 2 children; her son and first born Douglas Graham McClellan (deceased 1975) and her daughter Brenda Mae McClellan (of Salmon Arm).
Lois (with my Dad) moved to a Silver Creek acreage in the late 80's and shortly after the 1998 fire moved into Salmon Arm, first to North Broadview, and then to Braeside Place. Mom's "English" daughter Carolyn and her husband Peter Beard followed her to Salmon Arm in 2009 with daughter Brenda finally getting the idea and arriving in 2013 with her husband David Walker. Lois will also be greatly missed by Carolyn and Peter Beard and their children Amanda (and spouse Ravi), and Matthew (and spouse Paula) along with her "adopted" great-grandchildren: Naveed, Aria, Zoe and Amelia.