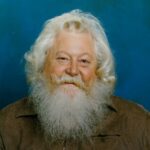 Noel McClelland July 4, 1934 – May 22, 2014  Noel and his wife Lila retired to Salmon Arm from Port Coquitlam in the summer of 2000 after many years of working in the printing industry owning "Noel's Print Shop" in Burnaby.
Besides his love for his wife and family, Noel had a passion for Christmas and spent many years being Santa. Noel traveled as far as Hong Kong representing all things Christmas giving joys to thousands of people. He was the face of Santa for many retail businesses spanning over many years.
He also opened his home to people with his "Magical Windows" display where families could come and be delighted by the wonder of the season and the children could whisper their hearts desire and have their picture taken with beloved Santa Claus. Noel accepted donations, which he then gave to the Shuswap Hospital Foundation further spreading his love for this community he supported so well.
Noel will be missed, but his legacy will live on thanks to the Downtown Improvement Association. They have taken on Noel's Christmas decorations and will be using them every year to continue to make Salmon Arm truly a "Christmas Town".
Noel continues to exist in a "Magical, Mythical, Make Believe" world and in our hearts forever.