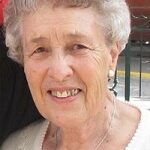 Lois Ada Smith passed away at the age of 81 years on the morning of July 28th. Lois and husband Raymond Smith had four children together. Raising their family in Valemont, BC, they became long-term, respected fixtures in the logging industry of that area. Lois had moved to Revelstoke in 2007 to be nearer to family members and grandchildren after most had drifted away from Valemount B.C. where she had lived for over forty years.
At the time of her passing, Lois was the only surviving member of the family she was born into and had been predeceased by her husband, her youngest son, her only daughter, two grandchildren in infancy and her daughter-in-law Susie. With his wife, Susie, eldest son, Doug, now of Kamloops, gave her eight grandchildren: Laura, Ryan, Jared, Greg, Sonia, Cara, Mary and Kevin. Laura married Tyler Quinn and provided great-grandchildren Mya, Aria and Elly. Grandchildren from Stan and his wife, Nadine, in Revelstoke are Emily, Jacob, Isaac, and Adam. The last great-grandchild, Grace was recently born to Emily and husband Kris Robinson. Son-in-law Chris Clement of Calgary and daughter-in-law Cathy Tetarenko of Kamloops also morn her passing.
Anyone wishing to honour the legacy of Lois may do so by providing support and guidance for a child who has lost a parent, feeding and sheltering a homesick young traveller, visiting a friend in failing health, or lending a patient ear to someone who just needs someone to listen.